"How much does it cost?"
How much for a billboard?
What do you charge for a logo?
How quickly can you get a brochure done?
What would it cost for monthly website management?
I try not to answer a question with a question, but we need to start with the basics. As an example, "doing some brochures" can mean a lot of things…
a)   How many do you need?
b)   What size of brochure?
c)   How will you distribute them?
d)   Who are you sending them to?
e)   Do you have an idea of what you want to say?
To clarify, in regards to the billboard question: They are booked months/years in advance, and NO, a billboard is not the best place to start if you have no other marketing in place.
Are you getting business from the customers you really want?
Give us a call at 916-364-1582 if you would like to know how much it will cost for your project, or if you just want to pick my brain about your marketing ideas. Your first 15 minutes are FREE!
You can also submit the contact form below and we will be in touch.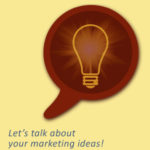 Andrea Raymond is the owner of Appletree Advertising & Design, which has been in business for 18 years. With experience in the printing, graphic design and advertising industry, we help business owners with the tools they need to grow their business. You can schedule a free consultation by contacting us here.