So what exactly does Appletree do?
Part 1 of a 2-part series about the business of graphics and marketing:
So what exactly do you do?
When meeting someone new at a networking event this is the first question I am asked when handing out my business card.
When I answer "Graphic Design and Marketing", I have found that most of the time people then ask a follow up question – "So what does that mean?" or they comment, "How Fun!". Don't get me wrong, I love what I do, but it is serious business. I wear many hats, of which only some include actual graphic design. When describing my business, I focus on how we help business owners, which seems to be easier for people to digest.
Here are some of the tasks that Appletree handles on a weekly basis:
Creating Content for Websites
Creating brand new websites
Website Optimization (SEO)
Creating content for Brochures
Editing photos and creating infographics
Creating Surveys
Strategic Planning for Social Media and other forms of marketing
Consulting/Training for WordPress websites
Connecting people to the services they need (which may not include my services)
Designing logos, business cards, postcards, brochures and recreation activity guides
Every job, big or small, starts with a budget, a proposal and a timeline. It is very important to us that when our project is done, you will have the tools to complete your goals. If you are ready to give your marketing a boost, give us a call for a free consultation. You may be surprised by all the ways you can pump up your marketing without spending all your profits.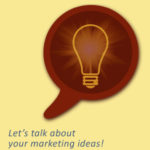 Andrea Raymond is the owner of Appletree Advertising & Design, which has been in business for 18 years. With experience in the printing, graphic design and advertising industry, we help business owners with the tools they need to grow their business. You can schedule a free consultation by contacting us here.